National NC-270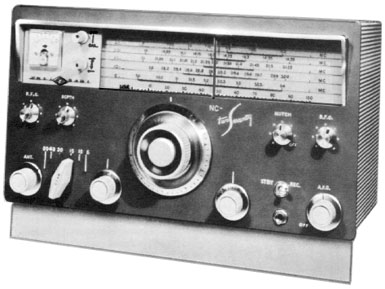 The National NC-270 is a cool radio! It was the first National receiver to sport a beautiful two-tone cosmic blue color and it has shiny chrome, gaudy fins, flip feet, etc. It fits in the early 60's with big Cadillacs and rock -n- roll. But don't let that fool you. It was and is a solid ham-band receiver that covers the HF bands of the 1960s as well as the 6 meter band.
Of course it lacks the features and refinements that integrated circuits can offer, but it does a fine job for it's day. The use of ferrite-core coil filters along with conventional T-notch circuit provides very good selectivity back before SSB was anything more than a fad.
The receiver includes a built-in crystal calibrator which is activated by a front panel switch. There is also a dial set control which provides for lateral motion of the entire dial scale to bring the tuning pointer and calibration mark directly in line.
The NC-270 received accolades from emergency officials and amateur volunteers for it's performance during Hurricane Carla's destructive visit to Texas in 1961.
If you feel the need to get in touch with radio from a by-gone era, this is a good receiver to start with. It is beautiful, fun and a good performer to boot.
I recently got the opportunity to pick up a collector quality unit and it will be a part of my radio shack permanently. I don't listen to this radio, I visit with it. It welcomes me with a warm glow every time I switch it on.
SPECIFICATIONS and MISC. DATA
Amateur Band Communications Receiver

Rating (1-5): ****

Made In: United States 1960-1964

Voltages: 105-125 VAC 50-60 Hz

Coverage: Ham. See Comments.

Readout: Analog

Modes: AM/SSB/CW

Circuit: Double Conversion Superheterodyne. 10 Tubes.

Physical: 15.75x8.75x9" 28 Lbs. 400x222x228mm 12.7 kg

Circuit Complement: 6BZ6 RF Amp, 6BE6 Converter, 6BE6 Converter, 6BA6 IF, 6BA6 Product Detector, 6T8 Detector/AVC/ANL/Audio, 6CW5 AF Output, 12AU7 Calibrator/BFO, 5Y3GT Rectifier and 0B2 Voltage Regulator. Utilizes product and diode detectors.

Features: • ¼" Head. Jack • S-Meter • Notch • Antenna Trimmer • RF Gain • Dial Lamp • BFO • Calibrator 100 kHz • Mute • Standby • Tilt Foot • AGC • ANL

Accessories: NTS-3 Speaker

New Price: $180-280

Used Price: $100-140

Comments: Ranges: 3.5-4, 7-7.3, 14-14.4, 21-21.5, 28-29.7 and 50-54 MHz. This was the first model to feature National's dramatic "cosmic" blue metal cabinet.
Click
for a slideshow of this Classic 60's Throwback Receiver!